APPLE IPHONES & IOS OPERATING SYSTEM
With so many smartphones on the market, it can be difficult to choose which one is right for you. Apple is a name synonymous with innovation and high-quality technology. The iPhone was revolutionary when it was introduced and has continued to deliver with each new model.
Some iPhone users upgrade to each model, while other smartphone users assess which suits their needs when they are due for their next phone. Here are some of the features you will experience when you purchase an iPhone:
Get apps first. Generally speaking, the iPhone app is created first whereas Android users have to wait for their version.
Quick and regular updates. iOS updates on a regular basis and is available to all iPhones no matter which model you use.
Easy transition between devices. If you own other Apple products such as the iPad or MacBook you can easily sync them. If you are working on a project, you can easily switch between your devices to suit you.
Accessible for users. The user-friendly interface makes it easy for just about anyone to use the iPhone.
Easy to communicate with other iPhone users. If your friends and family are using iPad's and iPhones, then you can connect easily with them. iMessage allows you to send longer messages which are manageable from any device. Facetime makes reliable video phone calls possible. For better clarity use Facetime audio to make your conversations crystal clear.
Share your apps, music, movies and more with the iPhone. If you've purchased an app, your family can also gain access without having to make multiple purchases.
Choose your storage. If you are always running out of room on your phone, there are a range of storage options you can select to suit your needs better.
iOS
iOS is simply the mobile operating system developed by Apple. The current version is iOS 10 and enables you to communicate in more advanced ways. The latest update has also created and experience out of exploring your photos and reliving your memories.
Back in 2005, Steve Jobs established two teams, one to create a micro version of the Mac and one to explore new ideas with the iPod. Tony Fadell led the iPod team and came up with the iPhone OS. This innovation was designed as a platform to allow third-party developers to write software for the product. This led to the creation of iPhone apps and the app store.
When Apple released the iPhone in 2007, they stated that the device runs OS X as well as desktop applications. At the time third-party apps were not permitted. In 2008 the operating system for the iPhone was named 'iPhone OS'.
Then in June 2010, Apple changed the name of the operating system to iOS. This required licensing the trademark from Cisco, a networking hardware company. They had been using a system called IOS and Apple wanted to avoid any potential conflicts. The system has evolved in many innovative ways to provide customers with the latest technologies.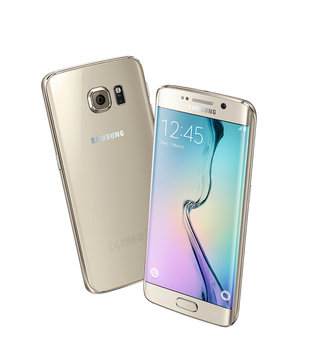 SAMSUNG GALAXY & ANDROID OS
If you are looking for a smartphone alternative to an iPhone, then you are looking at Android phones. The Samsung Galaxy is a top quality device that offers the following features:
Never run out of space. If you love to take plenty of photos and download apps with your phone, then you know the frustration of not having enough memory. The Samsung Galaxy S7 has a generous 32GB of memory; however, you can also add an extra 200GB with a microSD card.
Avoid water damage. Smartphones are designed to go with you everywhere you go. If you always have your device on hand, this can lead to accidentally jumping in the pool with your phone still in your pocket or slipping into the toilet bowl. With other phones, this can result in a visit to the repair shop or you might need to replace it. The Samsung Galaxy is water resistant for up to half an hour in up to five feet of water.
Slim and sleek design. It's easy to hold and easy to use. Perfect for beginners and seasoned Android users alike.
Exceptional camera capabilities. Take the perfect photo the first time with dual pixel technology. The Samsung Galaxy camera quickly autofocuses so that you get clear, sharp photos every time.
Get the most out of the battery life. With a large 3000 mAh battery you don't need to worry about charging it all the time. The latest update ensures that the apps won't drain the battery. When your battery dies, you can either plug it in or choose wireless charging. Either way, your battery will be back up to 100% in no time.
Download the apps that you want. You can get all of the Android apps on your Samsung Galaxy. New apps are created every day to improve your experience of your smartphone.
Android Operating System
The Samsung Galaxy uses the Android OS developed by Google. Android phones, as well as tablets, use this operating system.
It all began in October 2003 when Andy Rubin, Nick Sears, Rich Miner and Chris White founded Android Inc. Initially, they were developing an operating system for digital cameras. However, there wasn't enough demand, so they focused their efforts on creating a smartphone operating system.
In July 2005 Google took over, retained the founders as employees and focused on providing a flexible system that was upgradeable. In November 2007 Google along with HTC, Sony, Samsung, Spring Nextel, T-Mobile, Qualcomm & Texas Instruments revealed their intentions to create open standards for mobile devices. The HTC Dream was the first smartphone available commercially running the Android operating system in October 2008. There have been a few more updates since then allowing the system to evolve and deliver users wants and needs.
The latest update Android 6.0 Marshmallow makes it easier than ever to access information on your Android smartphone. It takes fewer taps to get where you want to be. It provides more ways to save your battery life to keep you mobile all day long. When you're not using your device, it goes into a sleep state. There is also a reduced battery drain from apps on standby.
With Android 6.0 Marshmallow, you can gain access with your fingerprint and limit the information that apps have access to. With this operating system, you have outstanding security allowing you to protect your privacy.






Opening Hours
Mon-Fri 9am-5pm (Hobart and Kingston)
Sat 9am-3pm (Hobart only)
Sunday's and Public Holidays Closed.